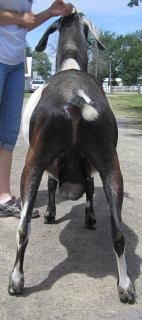 Buddy pictured as a 4 year old
State Line B Dbl E Dbl R UN (aka Buddy)
DOB: 4/8/10 ~ N1537698
SS: ++*B SGCH Kastdemur's Audacious 89 VVE
Sire:  *B SG Kastdemur's AM Mojito
SD: SGCH Kastdemur's Misha 3*M 90 EEEE
DS: *B +*B Willow Run AT Enferno
Dam: SG Lakeshore-Farms Lace Lilu 87 VEEV
DD: SGCH Lakeshore-Farms T.P. Lacey 1*M 91 EVEE
2014 LA: 90 EEE

2012 LA: 90 EEE
2014 Show Results:
1 X GCH (earned leg)
1 X BBIS

 We are very excited to get this guy back!  A BIG THANK YOU goes out to Sheryl at Bryrpatch Dairy Goats for taking good care of him for the past couple of years and for giving us the opportunity to bring him back home!  We lost his dam the year after he was born and, unfortunately, we were not able to get a daughter to keep from Lilu.  We decided to use him in the fall of 2011 on Lark, since we really love her daughter, Robin, who was sired by another Lilu son named Rebel.  The results, Raven and Kestrel, were not disappointing.
Buddy is level over the topline, he stands on strong feet and legs, he has good breed character and lovely dairy character.  At only 2 years old, he scored 90 EEE.  We think that is pretty impressive for a young buck.
Pictured as a 2 year old (Pictures courtesy of Sheryl Clifton at Bryrpatch Dairy Goats):
Buddy's dam, Lilu: